We are excited to announce that on 21st November 2020, Hon'ble Chief Minister of Odisha has launched 11 nos. of Online Services of e-MSME Service Portal (https://odishamsme.nic.in) of MSME Department, Govt. of Odisha under 5T initiative, which has been developed by team #NTSPL within this COVID 19 pandemic.
Capt. Dibyashankar Mishra, Hon'ble Minister, MSME, Sri Chinmaya Sahoo, Chairman, OSFC, Sri Sangram Paikaray, Chairman, Odisha Khadi and Village Industries Board, Sri Asit Tripathy, Chief Secretary, Sri Suresh Chandra Mohapatra, Development Commissioner, Sri R.K. Sharma, Agriculture Production Commissioner, Sri A. K. Meena, Principal Secretary, Finance, Satyabrata Sahoo, Principal Secretary, MSME and Sri V. K. Pandiyan, Secretary to Hon'ble Chief Minister (5-T) were present in the programme.

Services which can now be accessed online include issue of export promotion and marketing registration certificate, issue of rate contract certificate, test report, export related assistance, renewal of registration certificate of small and medium enterprises, pre and post-delivery inspection, recommendation for issue of khadi certificate, release of rebate claims, supply of materials to the various line department through consortium marketing, issue of no dues certificate and one time settlement by Odisha State Financial Corporation.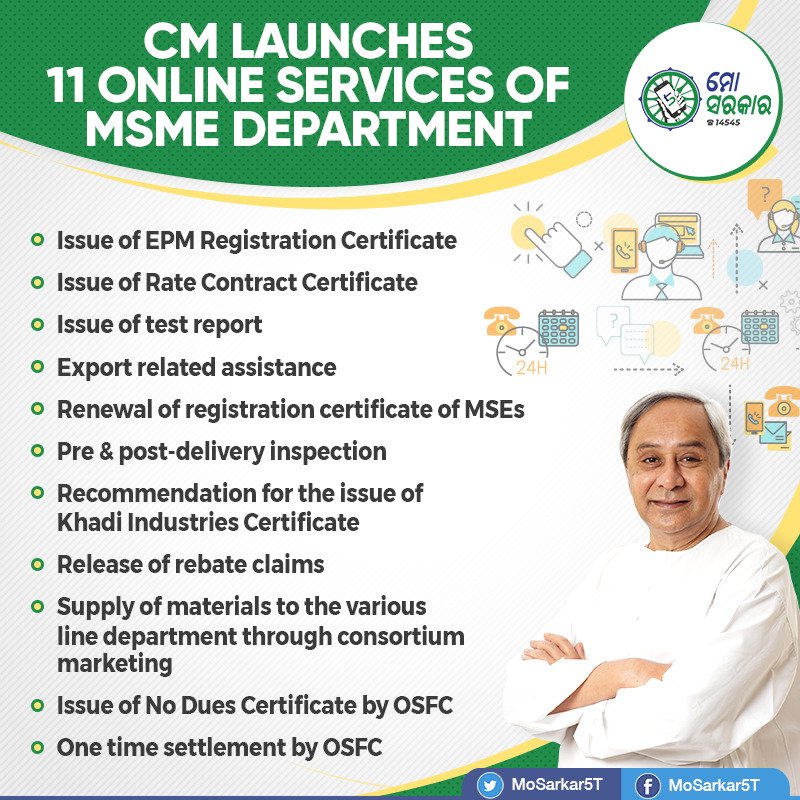 Main Features of e-MSME Seva Portal
Common site of access for all services through e-MSME Service Portal (https://odishamsme.nic.in).
Two-step authentication of users for stronger application security.
Integrated with Integrated Financial Management System (iFMS), Odisha Treasury for online payment.
Available anywhere anytime on finger-tips.
End -to-end multilevel automated work flow.
Quick messaging through SMS.
E-mail messaging.
Easy login through email id for End User.
Integrated with Central Monitoring System portal for monitoring of service deliveries.
11 services are delivered through 5 independent and automated applications to ensure decentralization of workload, better efficiency and better effectiveness.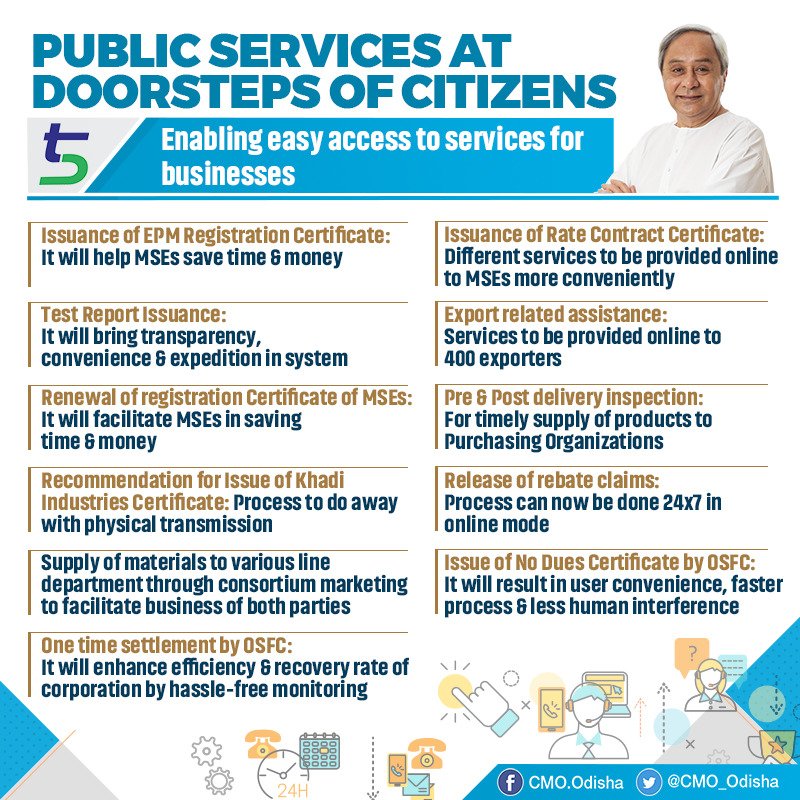 Outcomes
Freedom of citizens for not going to the office.
People from remote areas can avail the services.
Less human interface, so faster process.
Emphasis on simplification, Delegation reduced timelines.
Makes the process hassle free, paperless and industry friendly.
Providing a cordial environment.
Ensures "Ease of doing business".
Providing impetus for promotion of Micro & Small Enterprise.